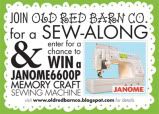 I'm joining this quilt along. It seems easy enough. Six weeks and I'll have a quilt. I have plenty in my stash that I can use and a week for each step. I can do one step in a week!
Week one is posted here: Gather Supplies.
That's what I'll be doing tonight. With all the tv show season finales, I'll have a lot more free time in the evenings. I'm looking forward to spending some more time with my stash!
The schedule of events for the entire six weeks is here: Schedule of Events!
Drop me a line to encourage me or let me know you'll be playing along too!
You might also like:
No related posts.